Question 1/10
littlemissmollybooks.com
What's your favorite type of non-alcoholic drink?
Sprunch (Sprite + Fruit Punch)
Question 2/10
medicaldaily.com
What quality do you look for most in a significant other?
Question 3/10
magneticframes.com
What type of movie snack do you always order?
Question 4/10
com.au
If money weren't an issue, what would your profession be?
CEO/President/Multi-Billionaire
Question 5/10
cuny.edu
Which TV show do you enjoy watching most?
Question 6/10
wordpress.com
Pick a flower!
Question 7/10
examiner.com
If you took a gap year between high school and college, what activity would you undertake?
Question 8/10
shopify.com
Which item would you pick out of a costume shop?
Question 9/10
seventhskyviaggi.com
Pick a US state to visit!
Question 10/10
top10spy.com
What's your favorite type of weather?
You are a strong and courageous individual. You are determined to also strengthen others, and with an inspirational quote or verse as a tattoo, you'll never forget your own strength and be able to give strength to others too.
Inspirational Verse
coupletattoo.com
You are a very professionally-minded, goal-oriented person with a touch of playfulness. A tiny tattoo would allow you to express your creativity, while still remaining your ambitious, competitive self on the job market.
Tiny Tattoo
styleshut.com
You are spunky, artsy, and unique. You dare to be different, and a colorful, funky, geometric patterns and tattoo is the perfect kind for you.
Colorful Geometric Patterns
tattoostime.com
You are delicate and girly, and you enjoy pretty things in life. You'd be happiest with a flower or plant tattoo that matches your spirit and desires to continue growing into a stronger, better person.
Flowers & Plants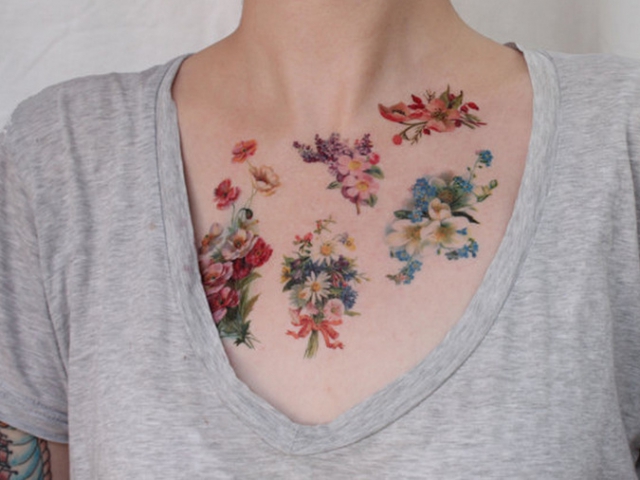 studded-hearts.com
You are a person who cares deeply about others. A true romantic at heart, the most meaningful type of tattoo for you would be one that's a pair. Whether you match your significant other, a parent, a sibling, or your best friend, you'll cherish this type of tattoo for as long as you live.
Matching Tattoo
tattoobite.com
More Quizzes
Next Question
They're more or less permanent, so you should think once or twice (or three or four times!) before you get that infinity sign, butterfly, or full sleeve!