Which of these public figures is most like you in terms of personality and morals? Is it the figure that you have in mind? Take these 10 questions and find out what public figure is most like you!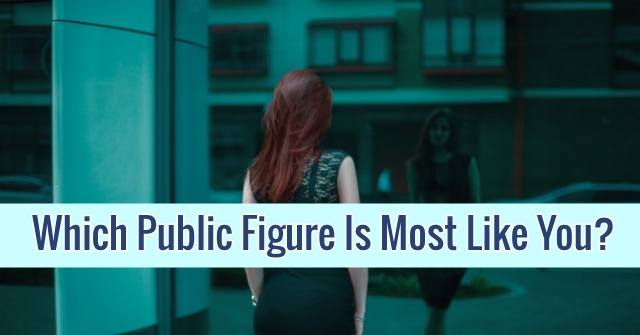 START THE QUIZ!
Question 1/10
pexels.com
What's the most daring thing you've ever done?
Wore white after labor day
Stood up for the underdog
Moved somewhere far from home
Spoke up even when it was unpopular
Question 2/10
pexels.com
Are you a clean person or a messy person?
Question 3/10
staticflickr.com
Who would you want to play you in a movie of your life?
Question 4/10
pexels.com
What trait are you most proud of?
Question 5/10
pexels.com
What do you value you most in life?
Question 6/10
pexels.com
What do you want most for your children/grandchildren?
Question 7/10
pexels.com
Do you believe that education is more important than experience?
Question 8/10
pexels.com
Are you a highly religious person?
Question 9/10
pexels.com
What was your favorite subject in school?
Question 10/10
pexels.com
What's the first thing you notice about a new person?
The way they carry themselves
The public figure that is most like you is Gloria Steinem! When you believe in something, you passionately pursue that cause at all costs. You never back down from a challenge and always meet difficulty head on.
Gloria Steinem
wikimedia.org
Bob Dylan may not have wanted to be a public figure in the traditional sense, but he changed the landscape of both music and politics in the 1960s. Much like Dylan, you're an unlikely hero, but a hero nonetheless.
Bob Dylan
wikimedia.org
You are most like public figure and tennis champion Billie Jean King! Much like Billie Jean King you truly believe in women's rights and equality. You would stop at nothing to make women as revealed in every aspect of society as men.
Billie Jean King
wikimedia.org
You are most like former president Jimmy Carter! You're honest to a fault and a purveyor of peace. You truly want to the world to unite as one and find common ground, even during times of difficulty.
Jimmy Carter
wikimedia.org
You are most like boxer and public figure Muhammad Ali! Not only are you a fighter who never gives in to difficulty, but your resiliency and sense of right/wrong is unrivaled. You always do the right thing even if it's the hard thing to do.
Muhammad Ali
staticflickr.com